KSTAR Project
About KSTAR
The goal of KSTAR is to build a steady-state-capable advanced superconducting tokamak to establish scientific and technological basis for a fusion reactor. Through international collaboration with the fusion community and domestic industry, KSTAR was born to lay the foundation for advanced fusion research.
During previous research campaigns, the KSTAR achieved unprecedented superconducting tokamak operation with astonishing results, of a long-pulse H-mode, a high ion temperature exceeding 100 million degrees, and reliable ELM (edge localized mode) suppression.
KSTAR continues to achieve key technologies and physics understanding toward the dream of a commercial fusion reactor with the collaboration of the fusion community.
KSTAR System Specification
Final target performance: Toroidal magnetic field_3.5 Tesla, Plasma pulse duration of 300 seconds, superconducting operating temperature_4K (269 degrees below zero)
KSTAR Mission & Progress
Misson
To achieve the superconducting tokamak construction and operation experiences

KSTAR Key Features
Highly efficient tokamak
middle size & mega-ampere class
Steady-state & ITER relevant device
Nb3Sn superconducting magnet
active cooled in-vessel components
long-pulse non-inductive heating and current drive
High performance operational capability
passive stabilizer
in-vessel control coils
strong shaping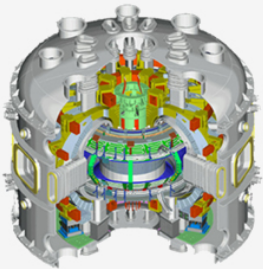 Schematics of the KSTAR device
KSTAR Parameters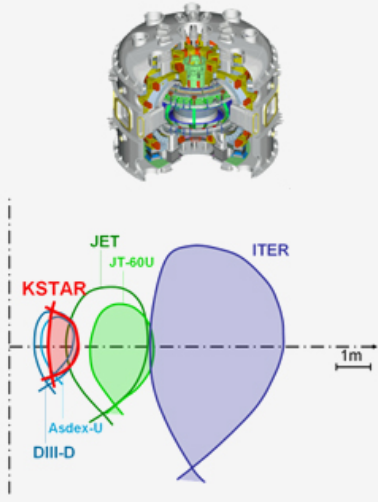 KSTAR Parameters

| PARAMETERS | KSTAR | ITER |
| --- | --- | --- |
| Major radius, R0 | 1.8 m | 6.2 m |
| Minor radius, a | 0.5 m | 2.0 m |
| Elongation, k | 2.0 | 1.7 |
| Triangularity, δ | 0.8 | 0.33 |
| Plasama volume | 17.8 ㎥ | 830 ㎥ |
| Plasama surface area | 56 ㎡ | 680 ㎡ |
| Plasama cross section | 1.6 ㎡ | 22 ㎡ |
| Plasama shape | DN, SN | SN |
| Plasama current, lP | > 2.0 MA | 15 (17) MA |
| Toroidal field, B0 | > 3.5 T | 5.3 T |
| Pulse length | > 300 s | 400 s |
| βN | ~ 5.0 | 1.8 (2.5) |
| Plasma fuel | H, D-D | H, D-T |
| Superconductor | Nb3Sn, NbTi | Nb3Sn, NbTi |
| Auxiliary heating /CD | ~ 28 MW | 73 (110) MW |
| Cryogenic | 9 kW @4.5K | |